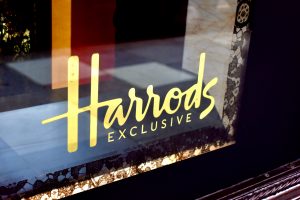 AMAZING NEWS! We are hugely delighted to announce that Ealing Gin has been chosen by Harrods to be part of its curated gin collection. A great honour and an incredible endorsement. Thank you to Nick Fleming (Spirits Buyers for Harrods) and his brilliant team for their support.
And for Nick's kind words: "When choosing new brands, I am always on the look out for something distinctive, fresh and authentic – all of which I found with Ealing Gin. It is a beautifully crafted, deep-flavoured gin, in a stunning bottle with a great story to tell – all the things our discerning Harrods customers expect."
Pop in to visit the beautiful Wine & Spirits Department – it's at the very forefront of drinks retailing giving customers a luxurious but accessible browsing environment and a great, interactive shopping experience. The team are all lovely, helpful and (as you might imagine) very well informed.